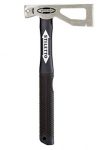 Stiletto Titanium Hatchet Review
 Stiletto Titanium Lather's/Roofer's Hatchet
This titanium hammer hits like a 16 Oz Steel hammer with 45% less weight and 10 times less recoil shock.
10 Oz Solid Milled face Titanium head
NEW RE-DESIGNED 13.5″ FIBERGLASS HANDLE
Ergonomic thumb divot in handle for increased control
Lightweight open blade design
3-position Magnetic Nail Starter
With the combination of titanium and fiberglass, the hammer head weighs in at just 10 ounces.   The Stiletto hatchet has the comparable striking force of a 24 ounce steel hammer, while putting less stress on your body.
Have you used the Stiletto Titanium Lather's/Roofer's Hatchet?
Share your review below!
Please read review guidelines before leaving a review.