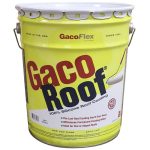 Gaco GacoRoof GR1600 Silicone Roof Coating Review
Gaco GacoRoof GR1600 100% Silicone Roof Coating
GacoRoof 100% Silicone Roof Coating creates a seamless membrane to seal and repair existing roofs and permanently protect against leaks, permanent ponding water and the damaging effects of severe weather. GacoRoof is available in several colors to enhance the aesthetics of any roof. Ideal for use on flat and sloped roofs including, but not limited to, large and small buildings, homes, garages and patio covers, sheds and barns, mobile homes, RVs and more.
Specifications
100% silicone roof coating. 69% solids by volume
50 Year limited Warranty when applied properly
Provides waterproof protection
Stands up to permanent ponding water without bubbling, peeling, or breaking down
Stays flexible and maintains adhesion
Unlike other coatings that require recoating every 3 to 5 years, GacoRoof only needs one coating
Coverage: 100 square feet per gallon per coat. One 5-gallon pail covers 250 Square feet of roof with 2 coats. (22 dry mils)
Solar Reflective Index: 85% (white)
Have you used Gaco GacoRoof GR1600 Silicone Roof Coating?  Share your review below!
Please read review guidelines before leaving a review.