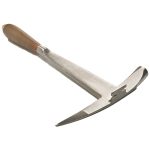 Stortz Slate Hammer Review
Stortz Slate Hammer
The Stortz Slate Hammer is a must have tool for the professional slater.
-Well balanced and weighted for precision striking and trimming of slate pieces.
-Trim on back of slate to leave a professional chamfered edge look to finished pieces.
-Pointed end of hammer for punching perfect nail holes.
Head Face – 3/4" X 7/8"
Overall Length – 12 1/2"
Weight –  26 oz
All leather handle
Point claw and hammer face are all heat treated to withstand tough use
Have you used the Stortz Slate Hammer?  Share your review below!
Please read review guidelines before leaving a review.