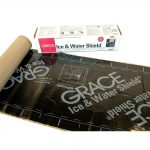 GRACE Ice & Water Shield Underlayment Review
GRACE Ice & Water Shield Underlayment
GRACE ICE & WATER SHIELD® self-adhered roofing underlayment is a premier membrane composed of two waterproofing materials—an aggressive rubberized asphalt adhesive backed by a layer of slip resistant coated high density cross laminated polyethylene film. The rubberized asphalt surface is backed with a foldless release paper that protects its adhesive quality. During application, the release paper is easily removed, allowing the rubberized asphalt to bond tightly to the roof deck. The Ripcord® embedded in the adhesive provides the applicator a "split release on demand" feature.
Provides best in class roof leak protection
Ripcord® split release makes it easier to waterproof detail areas
Provides long lasting adhesion to roof deck without primers or fasteners
Forms superior, high quality laps
Rubberized asphalt seals around roof fasteners
108 square foot roll
GRACE ICE & WATER SHIELD® is a versatile underlayment material that may be used on sloped roofs, under mechanically attached roof coverings such as asphalt shingles, slate, tile, cedar, and standing seam metal in many climate and assembly conditions.
GRACE ICE & WATER SHIELD® is supplied in 3 ft wide rolls of varying lengths. Membrane strips are also available in 75 ft (22.9 m) long rolls at widths of 6 in. (150 mm), 9 in. (225 mm), 12 in. (300 mm) and 18 in. (450 mm).
Have you used GRACE Ice & Water Shield?  Share your review below!
Please read review guidelines before leaving a review.
GRACE Ice & Water Shield Underlayment Review
Customer Service/Warranty
9.3