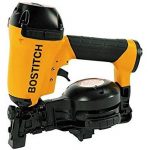 Bostitch RN46-1 Roofing Nail Gun Review
Bostitch RN46-1 Pneumatic Roofing Nail Gun
Features:
Holds 3/4-inch to 1-3/4-inch nail coils

Dimensions: 13.4 x 14.4 x 5.1 inches
Weight: 5.8 pounds

Lockout mechanism prevents firing when empty.

Operating Pressure : 70 -120 psi

Adjustable depth control, full round driver, body and magazine wear guards, side-load canister

Aluminum and carbide tips

 Side load nail-loading canister 

Adjustable shingle guide for quick shingle spacing

7 year limited warranty
Have you used the Bostitch RN46-1 nail gun? Share your review below!