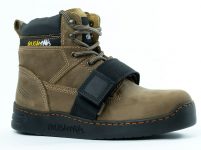 Cougar Paws Steel Walker II Roofing Boot Review
Cougar Paws Steel Walker II Roofing Boot
Our newest leather boot has a vintage look that is ultra-strong and ultra-durable in construction.
The interior is lined with a moisture wicking material that absorbs sweat and keeps your foot cool and dry. As for comfort, we've added triple-ply cushioning that allows for a smooth ride. And along with our powerful magnets, we have introduced a softer rubber sole and enhanced tread design for maximum grip.
The Steel Walker® II has multiple options such as Strap Only, Composition Toe or Composition Toe & Strap. This tool provides unsurpassed traction and stability on steel surfaces, plus extended foot protection with the safety rated composition toe.
Have you used the Cougar Paws Steel Walker II Boot?  Share your review below!
Please read review guidelines before leaving a review.
JOIN 325,000+ ROOFING FANS! 
Follow The Roofer's Helper: Instagram | Facebook | www.TheRoofersHelper.com