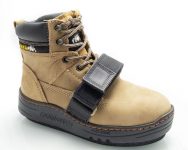 Cougar Paws Performer Boot Review
Cougar Paws Performer Roofing Boot
Description
Cougar Paws Peak Performer Roofing Boots are designed for roofers to be safe, secure, and productive while on a roof. These roofing boots have been tested and proven to provide the best available grip, even on steep pitched roofs, giving you twice the security and twice the traction. Cougar Paws boots are considered the best footwear for roofers due to their safety, durability, style, and comfort. The Peak Performer has a soft, flexible leather upper with a cushioned interior lining that fits your foot and keeps them comfortable and dry. Each boot comes equipped with padded ankles, cushioning, and a reinforced toe, while still delivering time tested durability. The redesigned outsole is the most flexible of any roofing shoe available, helping to reduce foot fatigue.
Peak Performer roofing boots are tough, effective, comfortable, and will not cause damage to your roof. Cougar Paws can bond to many various roofs and surfaces including: plywood, wood shakes, felt, slate, shingles, and more. When the pads of your Cougar Paws boots wear out, you can buy Peak Performer replacement pads.
Features
Breathable inside boot lining helps keep foot dry and comfortable for the duration of any roofing job
Vented exterior helps to wick away moisture and dry boot as fast a possible
Full grain leather on upper portion of the boot is extremely durable and helps to keep moisture out
Protective finish makes cleaning fast and easy
This high quality leather will naturally soften in time to look more appealing
Have you used the Cougar Paws Performer Boot?  Share your review below!
Please read review guidelines before leaving a review.