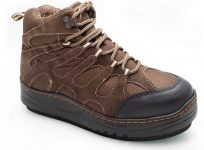 Cougar Paws Estimator Roofing Boot Review
Cougar Paws Estimator Roofing Boot
Description
Despite its stylish and casual appearance, the Cougar Paws Estimator Roofing Boot offers the same traction-grip technology as all other Cougar Paws Boots. The upper portion of the boots are made of leather and nylon which reduce the weight found in traditional boots, making it perfect for estimating and light-duty jobs.
Features
Very flexible and light-weight
Used mainly for inspections and light repair work
Have you used the Cougar Paws Estimator Boot?  Share your review below!
Please read review guidelines before leaving a review.
Cougar Paws Estimator Roofing Boot Review
Customer Service/Warranty
10.0