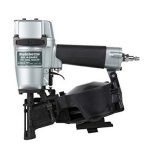 Matabo (Hitachi) HTP NV45AB2 Roofing Nail Gun Review
Matabo (formerly Hitachi) HTP NV45AB2 Pneumatic Roofing Nail Gun
Features:
Holds 7/8-inch to 1-3/4-inch nail coils

Dimensions: 9 x 4.5 x 10.2 inches
Weight: 5.5 pounds

Adjustable depth control, full round driver, body and magazine wear guards, side-load canister

Carbide tip

5 year limited warranty




Have you used the Matabo (Hitachi) HTP NV45AB2nail gun? Share your review below!

Please read review guidelines before leaving a review.
Matabo (Hitachi) HTP NV45AB2 Roofing Nail Gun Review
Customer Service/Warranty
6.5