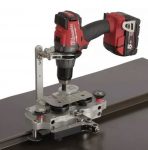 Biegetec AccuSeamer Review
 Biegetec AccuSeamer Review
Specifications:
Seams both single lock and doublelock (double lock requires a second pass)
Seams at variable speeds up to 180ft/min. Typical power seamers travel at about 35ft/min
Speed can be controlled simply by varying the speed of your drill motor
Seams both 1″ and 1-1/2″ standard standing seam profiles (maximum 1/2″ top width)
Changes from a single lock to a double lock seamer simply by rotating the seaming head
Works with any conventional cordless (or corded) power drill. 18V 5amp cordless is recommended.
*Drill not included
Stainless Steel: 0.5mm (0.0195″) 28ga
Painted Steel: 0.7mm (0.276″) 24ga
Copper: 0.8mm (0.032″) 22ga (20oz)
Zinc: 08.mm (0.032″)
Aluminum: 0.8mm (0.032″)
Have you used the AccuSeamer?  Share your review below!
Please read review guidelines before leaving a review.
Biegetec AccuSeamer Review
Customer Service/Warranty
8